According to the concept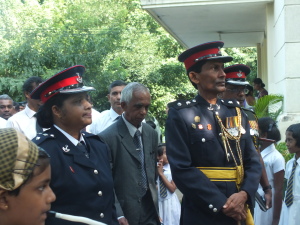 of honorable Pesident Mahinda Rajapaksha and under the  guidance of Mr. Gotabhaya Rajapaksha, the secretary of Ministry of Defense and Urban Development Authority, 138 Principals in the administrative service under different categorizes were commissioned as Colonels, Lieutenant Colonels and Captains.
                              Madam G. Gamarachchi is the first principal who was commissioned as Lieutenant Colonels of college history.
                              To commemorate the occasion and to welcome the commissioned Madam Principal colorful ceremony had been organized on 9th October 2013 by the college with the assistance of Old Boys' Association, School Development Society and Well wishers.
                             She was honored and Welcomed by the college cadets and Scouts by a street line Parade.
                              Lieutenant Colonel Gamini Marapane, the commanding officer of the 9th battalion, National Cadet core, was the chief Guest of this ceremony, The principals of neighboring schools Lieutenant Colonel N.A.D.R. Hemantha and Captain W.M. Dharmapala, senior officers of N.C.C. officers old Boys' Association and School Development Society also participated in the occasion.